2013










DANGEROUS DEVOTION
"Fearless and Faithful; Women Who Dare"

Jan 2013 (eBook Edition)

Contemporary Romantic Suspense
"Jessica was just 18 when she married the love of her life: handsome, strong, independent, Greg Dixon, who promised to always be there for her. What he didn't tell Jessica was that he was an undercover agent, sworn to bring down a dangerous drug cartel.
In too deep, Greg had no choice but to fake his own death – the only way he could protect her – leaving Jessica alone to raise their son. Seven long years have passed since Jessica was told she was a widow…and now Greg is back, more magnetic than before, but with shocking news: someone high up in the CIA is dirty – and Jessica and their son are in terrible danger!
From the majestic Ozarks to exotic jungles, from hometown to the unknown, Jessica and Greg are running against the clock. Their love and faith put to the test, just how far must they go? And is Jess's devotion to Greg more dangerous than the relentless enemy at their heels?"
Kindle Edition available now on Amazon.com
Nook Book available now on BarnesAndNoble.com










WAGES OF SIN
"Fearless and Faithful; Women Who Dare"

Dec 2012 (eBook Edition)

Historical Romantic Suspense
"Ruby McKay has no time to grieve her sister Louise's passing if she hopes to save the poor girl's newborn son. With Louise's cruel husband on her trail and a cadre of detectives pressed into service to track her down, Ruby begins an odyssey that will take her and the innocent babe from Kansas all the way to southern New Mexico - and drop them right in the middle of the Lincoln County War. Along the way, Ruby is assisted by several kind souls, among them, Brax Rutledge. He begins by pursuing her as he would a criminal, yet ends up realizing she is innocent of any wrongdoing in spite of the terrible false charges arrayed against her."

Author's note: This story is true to life and the era in which it takes place, including some gritty language that fits the story perfectly. These were harsh times. Not every man was a gentleman and not every woman was a lady.
Kindle Edition available now on Amazon.com
Nook Book available now on BarnesAndNoble.com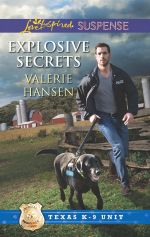 EXPLOSIVE SECRETS

Available Apr 2013

Love Inspired Suspense
ISBN 978-0-373-44532-5
"Implicated by her criminal cousin, Nicki Johnson is now the target of a murderous gang. Dark-haired policeman Jackson Worth thinks she is hiding something, but his remarkable bomb-sniffing dog has no such reservations. He's there to protect her - no judgments, no questions. And Jackson is a man of honor. He'll stand by this beauty and her unborn child. Because it is the right thing to do. And because guarding her has left his battle-scarred heart open to the possibility of love. Which changes everything..."
Kindle Edition available Apr 2013 on Amazon.com
Nook Book available Apr 2013 on BarnesAndNoble.com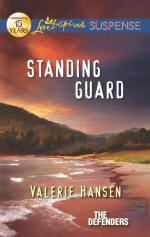 STANDING GUARD

Sep 2012

Love Inspired Suspense
ISBN 978-1-459-23879-4

"A scared widow and her defenseless son have former marine Thad Pearson on red alert. Someone is systematically wrecking Lindy Southerland's life; her credit rating, her bank account and even her home. Unless the attacker gets what he wants her child will be targeted next. With Thad's every protective instinct in overdrive, he guards Lindy and her son as if they're his own family. But keeping his scarred heart safe proves his toughest assignment yet - and leads him straight into a mastermind's deadly trap."










THREAT OF DARKNESS

Jun 2012

Love Inspired Suspense
ISBN 978-0-373-44492-2

"As a nurse and special advocate for children, Samantha Rochard is used to finding danger even in small town Serenity, Arkansas. But when she suspects that a little boy is in jeopardy from his powerful father, the danger turns to focus on her. Her only source of protection? The handsome police officer who broke her heart five years ago. Yet after John Waltham comes to her rescue in more ways than one, Samantha must trust in him - and in the Lord - to watch over her...and help her save one sweet little boy."











Top || Home|| News || Bio || Coming || Books || Excerpts || Links || E-Mail